About us
Thai Tae is located at 6B/237-239 Hamilton Road, Coogee WA. We serve authentic Thai cuisine that will surely give you a taste of Thailand's different flavours. You can start with our Satay Beef, Spring Roll or Chicken Curry Puff. You can also try our Tom Yum Soup or our Tom Kha Soup. For your main entrée, you can try our Larb Gai, Tofu Salad, Panang Curry, Pad Thai, Thai Tae Pad Kee Mao and more. Our Pad Prik Khing, Sweet and Sour Stir Fry and Thai Tae Chilli Fish are some of our popular stir-fry dishes. We provide pickup, delivery and online ordering services daily.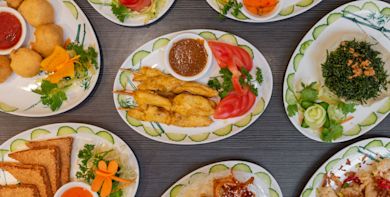 Reviews
Deb
"Always delicious!"
12/02/2020
Tracey
"Super yummy food. My favourite go to restaurant."
11/02/2020
Andrew
"Curry puffs are amazing!"
9/02/2020
Annie
"Large quantity of yummy food. Delivery was on time."
4/02/2020